Seems only fitting that I got my physical therapist Melissa addicted to chipotle Vegenaise that she would turn us on to something we're now in love with. To explain, to my pleasant surprise I found out my PT Melissa is vegan. She had never heard of the chipotle flavor of Vegenaise so I gifted her one and brought it to my session to try. For those unfamiliar see below: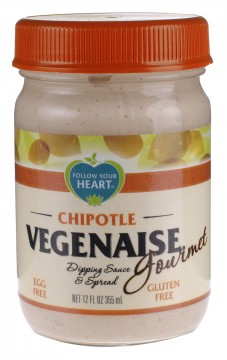 The 411 Bring a little spice into your life with Chipotle Vegenaise

®

Gourmet dipping sauce and spread! All natural and made with heart-healthy, soy-free Vegenaise

®

, this savory sauce will enhance your favorite foods with the smoky, spicy taste of real chipotle peppers.
We love this stuff, use it on sandwiches, as a dip you name it I've probably had this slathered on it. Well Melissa announced at our next session she too is addicted. In fact she got her mom hooked and her dad ended up buying 4 jars when he even mentioned being near a Wegmans. Which btw, is the only place I can find this flavor so good for them. Sorry I digress but this stuff will do that to you.
And now for what Melissa has hooked us on, not sure of a name other than yummy. We've had this twice and plan on many more times. After reading the description don't judge until you actually try it. For those of us using less dairy we used Tofutti Better than Cream Cheese spread. If cream cheese is your thing use that. But basically the "recipe" is: toast an everything bagel, spread with cream cheese and top with cucumber slices. Not sure exactly what it is but tasty is the word that comes to mind. (see exhibit 1)
Exhibit 1
Aaron's first try sent him into spasms and utterances of 'oh my this is good'. And here is exhibit 2 of this delicious breakfast that is now in our rotation. If you try it enjoy and if you think of a name for it let us know.